---
Edward Brooks
---
It is understood that he was the only Oxonian resident to receive the V.C. in the first World War. He was the son of Thomas and Selina Brooks and was born on 11th April 1883 at Oakley in Buckinghamshire where his father was a farm labourer.
A copy of the order (No.362) dated 2nd July 1917 reads,


The Brigadier-General notes with the greatest satisfaction that His Majesty has been please to award the Victoria Cross to Company Sergeant Major Brooks, Oxford and Bucks Light Infantry. By his gallant conduct on the 28th April 1917 Coy Sergt Major Brooks has brought the greatest credit on the 184th Infantry Brigade and has added additional lustre to the splendid historical records of the Oxford and Bucks Light Infantry.
Brooks, Once told of his award, immediately wrote a short note to his wife: "Just a few lines hoping to find you all right and the children keeping well. You will be surprised to hear that I have been awarded the V.C. "
Brooks with his wife Elise and eldest doughter Doris
When Ted returned to Oxford in July 1917, He was given a Reception by the Mayor and Corporation at the GWR station and was driven to Headington accompanied by the Mayor, Brooks' Colonel and Canon Colson, preceded by the Headington Silver Band. The carriage was lent by Mrs Morrel. He was presented with a framed illuminated address for His most conspicuous bravery regradless of personal danger, and also some money which had been collected in the neighbourhood. There were large crowds along the route

Ted Brooks had a life full of variety. Not wishing to work on a farm He left home at 13 and went to work at Huntley and Palmers biscuit factory in Reading. Unfortunately, when they discovered that he had put his age up a bit they could not continue to employ him officially. However, he was only threatened with dismissal and kept on by the firm, receiving no wages but instead being given a weekly substantial tip. He was there until the start or the Boar War when he was one of the first to volunteer. He was disappointed in not being accepted but joined the Brigade of Grauds Regiment of Foot at the age of 181/2 years for a three year period. He was able to stand so still when on sentry duty at Buckingham Palace that some American tourists, when trying to rouse him by pushing his buttons in, thought that he must be stuffed. He was a member of the Guard of Honour which welcomed the Kaiser when he came to Britian and later this seemed ironic to him and his family in view of the war which was to come.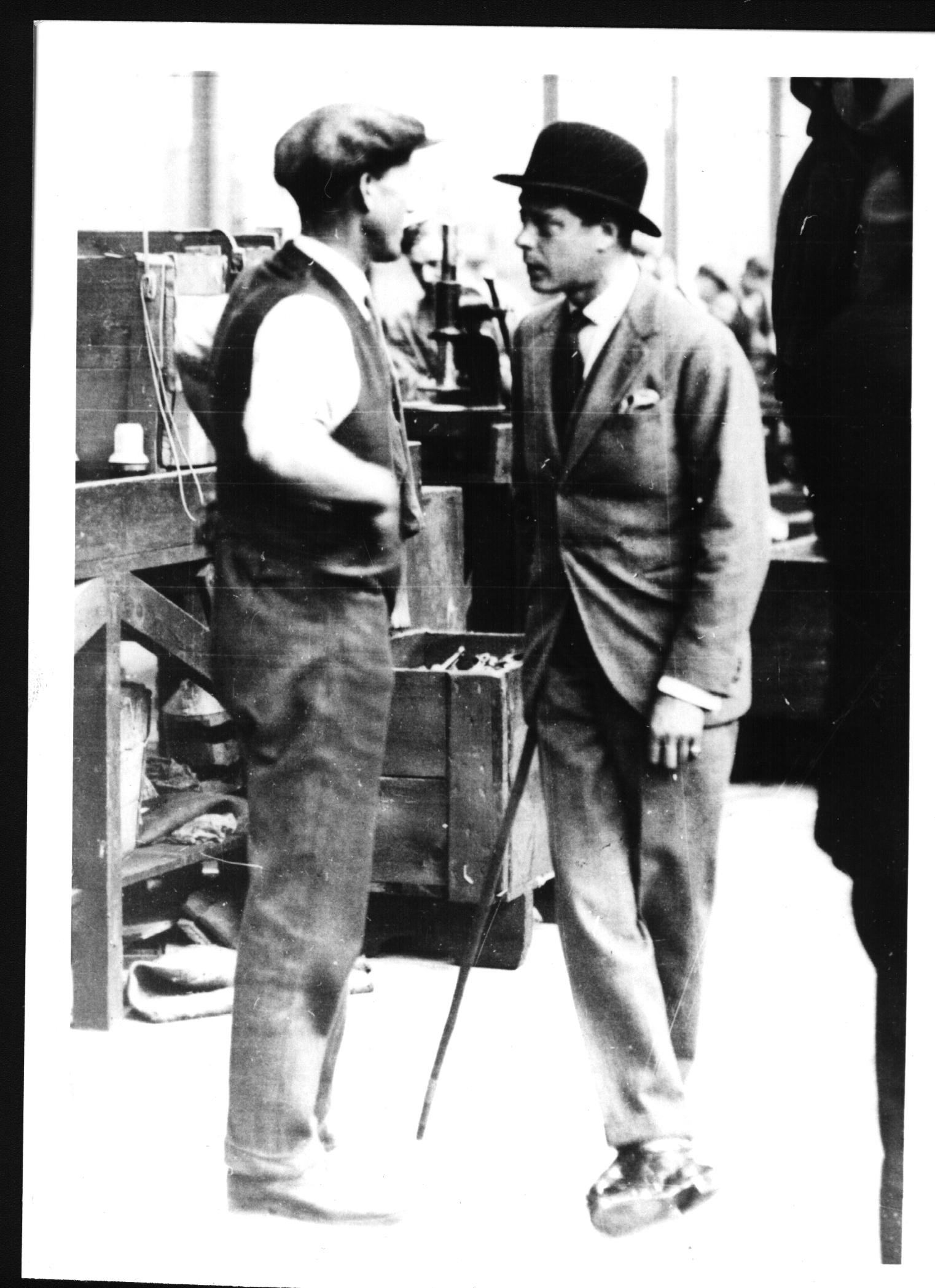 After the war was over, Ted left the Army and worked for Lord Nuffield in the days when he was known as William Morris.
The Prince of Wales talking to Ted Brooks during a visit to Morris Motors where Brooks worked from 1919 untill his death in 1944.
In the Second World War Brooks wished to be a dispatch rider, this time putting his age back instead of forwards, but without success.
Ted Brookes died at his home in Morrell Avenue on the 26th June, 1944 aged 61 years. Brooks Taylor Court in Albion Place, St Ebbe's was named after him and for a member of the Womens Army Corps. It was built by the Royal British Legion Housing Association.
The writing on His grave reads as follows :-
Treasured
Memories of
Loved Husband
Also of
And Father
His Beloved Wife
Edward Brooks
Elsie May
V.C.
Died
Coy. Sergt, Major
Nov 20th 1958
R/J Oxford & Bucks LI
Aged 73 years
Died
Reunited
June 26th 1944
Aged 61 years



all details are from Nora Pearce only doughter of Ted and Elsie that is still alive (this web page was built for her by her grandson)
---
Back to main page . Message Board . Sign guest book . read guest book